Wow, I am very happy with my mailman today for delivering so many awesome things!
First up, we have the entire Katy Perry collection by OPI that my wonderful hubby(who is currently deployed to Afghanistan with the Army) ordered for me on Amazon! I am really excited about these! Left to right we have: Not Like The Movies, Last Friday Night, Teenage Dream, The One That Got Away, and Black Shatter.
Next up are my first online Zoya purchases! They are from the new Smoke And Mirrors Collection. Yara is the olive green and Neeka is the dusty purple. They both have an amazing golden shimmer in them and were my favorites from the new collection. With my purchase, I also received their free bottle of
remove +
. This promo is still available until July 24th with code ZOYA50K.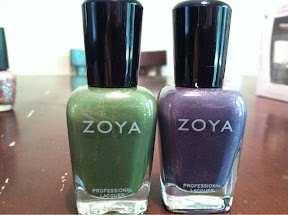 Finally, my last nail mail was a box set from Kohl's. I had Kohl's bucks to use and decided to grab this kit and see how I liked The Color Institute polishes that they sell there. The collection is called Avant Garde but the colors are not individually named. It came with a blue, purple, green, clear top coat, and a 4 way nail buffer file.
I can't wait to try these sets out and show them all to you! Thanks for reading! :)