Hey everyone! I have some awesome swatches to show you of the Katy Perry OPI collection that I got delivered yesterday, but I've been out all day so you will have to wait until I get home later to see them.
For now, I wanted to share the new polishes I picked up while in town today!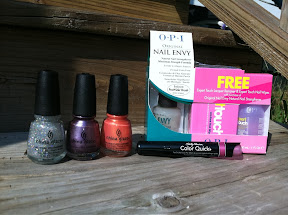 Ulta is still having their Buy 2 Get 1 Free sale on some brands! China Glaze, Orly, and Essie were the ones I noticed today(I'm not sure if there were other brands part of the sale that I missed so don't hold me to it).
So for my sale, I picked out the three China Glaze shown on the left. The glitter is called Fairy Dust, the purple is Harmony, and the coral is Thataway. They all have pretty shimmers in them and I can't wait to try them out!
I also picked up OPI Nail Envy finally! The $17 price tag has kept me from buying for so long but I found it paired with free polish remover and remover pads so that made it a better deal(plus, I used a $3.50 off of $10 coupon so that helped even more!). I am anxious to see if I can tell a difference in nail strength after using it for a while. I'll keep you posted!
Lastly, at Target I found a Sally Hansen Color Quick nail color pen in Fuchsia Chrome on clearance! I keep hearing that these make awesome stamp polishes so I was glad I found one to try.
Okay, thats all for now until I am home later and can post the OPI swatches. Thanks for reading!