It's time for my final nail art look for Countries & Cultures Week with The Digit-al Dozen! The final mani is also of a fictional land, this time it's Asgard from Thor! Asgard is very detailed so I went with a simplistic recreation of the Bifröst bridge reaching to the palace.
Here is a reference image from the movie: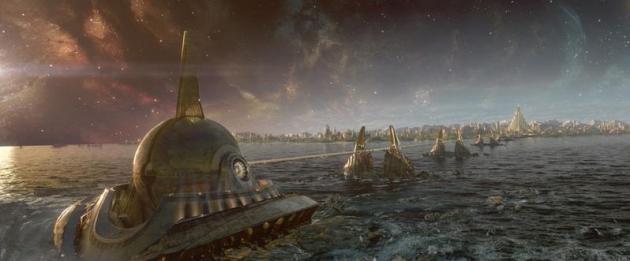 I'm a big fan of the new Marvel movies, and love Thor and Loki! The rainbow bridge was painted with a silver holo, but you can't see the rainbow in the lightbox. It's definitely cool in person! The base is
OPI Can't Find My Czechbook
.
What do you think? It's my least favorite of the week, but I was battling a terrible headache this morning so it's a wonder I got any polishing done. Thanks so much for sticking around this week and seeing my interpretations of the Countries & Cultures theme with The Digit-al Dozen!
In case you missed any, here is a collage of all 5 manis from this week! Which was your favorite?
Thanks so much for reading!